This month, cellist Zuill Bailey released a Prokofiev CD of the Sinfonia Concertante, Op. 125 with the North Carolina Symphony Orchestra led by conductor Grant Llewellyn and the Cello Sonata in C Major, Op. 199 with pianist Natasha Paremski. The release has been met with great acclaim:
"Bailey's mesmerizing, deeply committed performance puts this recording at the top, especially because of his warm, rounded tone and jaw-dropping clarity in lightning-speed runs."
The CD is available on iTunes and Amazon.
Zuill has already released a CD of Britten's Symphony for Cello and Orchestra, Op. 68 with Llewellyn and the North Carolina Symphony and, last month, performed and recorded with them again – this time in the Brahms Double Concerto with violinist Philippe Quint.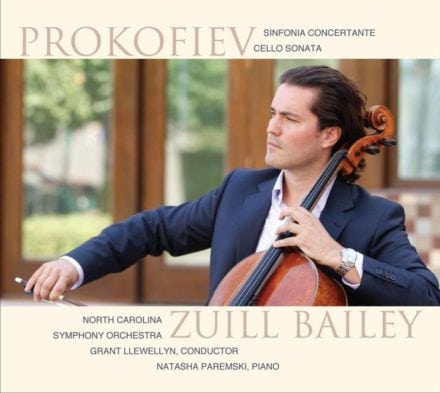 Bailey returned last weekend to the Asheville Symphony Orchestra to perform Michael Daugherty's Tales of Hemingway for cello and orchestra in performances led byDaniel Meyer, and this week, plays a recital at the Piatigorsky Festival (Boccherini/Stravinsky/Piatigorsky's Paganini Variations/Chopin/Foss's Capriccio) at USC. He opens the Sitka Music Festival in Alaska where he is Artistic Director on June 1, and stays in the State of the Midnight Sun until July 24, when he plays the Elgar Concerto at Interlochen, of which he is an alumnus. Zuill closes out the summer season with an August 23 recital at Ravinia with Natasha Paremski in an all-Russian program of Stravinsky, Prokofiev, and Rachmaninoff.