The brilliant, questing JACK Quartet is in the midst of a busy stretch, with a recent performance of the "in-the-dark" Haas Quartet No. 3, launching the San Francisco Performances new music series "Pivot."   
"It's the best kind of gimmick — one that recasts the entire listening experience and transforms a concert into something fresh and revelatory…You could almost hear the telepathic messages flying from one to the other in the darkness." – Joshua Kosman, THE SAN FRANCISCO CHRONICLE, March 5, 2016
Other recent highlights include performances of works by John Adams, John Zorn, Xenakis, Caroline Shaw, and others in Cleveland, Ann Arbor, and Chicago.
They also collaborated with the Spektral Quartet for a special program of graduate student-composed octets at Stanford University, and with harpist/composer Hannah Lash in a Composer Portrait of Lash at New York's Miller Theatre.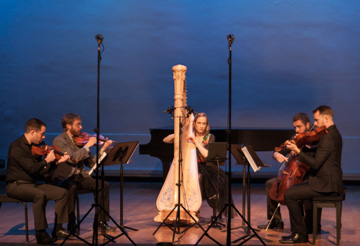 And this past week, JACK offered programs of Boulez and Beethoven for Tokyo's Spring Festival.
Looking forward, JACK performs New York and World premieres at the 92nd Street Y as part of the NY PHIL BIENNIAL.
Watch the JACK in action below, performing Xenakis's Tetras.