Conductor Jayce Ogren leads subscription weeks this season with the Columbus, Edmonton, Louisville and Asheville Symphonies in straight-ahead classical repertoire ranging from Mendelssohn and Beethoven to Sibelius, Stravinsky, and Copland – all dear familiars and important pillars of his repertoire.
But right now – he is in Australia leading the Melbourne Symphony and chorus with film – Terence Malick's The Voyage of Time at the Melbourne Festival – a Wordless Orchestra project, with whom he recently led Jackie at National Sawdust. (He also leads film projects with the Dallas Symphony and the Hong Kong Philharmonic.) Other "Specials" include subscription concerts with the Nashville Symphony and guest artist Amos Lee, and a return to the Indianapolis Symphony for a Happy Hour concert featuring Time for Three in a program with works by Ranaan Meyer, Beethoven, and John Adams.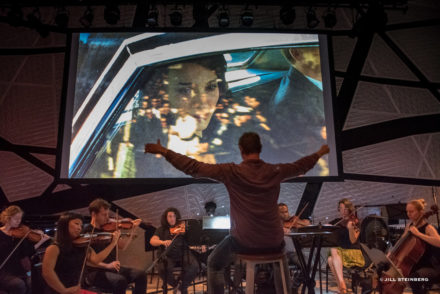 JACKIE screening with live scoring. Photo by Jill Steinberg
Outside the box – Jayce opened the season with his Orchestra 2001 at the Philly Fringe Festival last month in a performance of Sir Peter Maxwell Davies' 8 Songs for a Mad King, musicians in masks and Jayce in costume for this semi-staged version, and he closes out the season with 2001 in the Philadelphia premiere of the complete Yellow Shark by Frank Zappa.
In between are concerts with Orchestra 2001 of Steven Mackey's Slide, the title referring to visual slides. Projections of images will be choreographed with the music to explore how we interpret imagery. Jayce and the orchestra will be playing the supporting cast – acting and narrating the work as they play, with performances at the Venice Island Center in Philadelphia, the Sound Kitchen in Princeton, and National Sawdust in Brooklyn