Next week, conductor Ken-David Masur leads the Boston Symphony Orchestra, the Tanglewood Festival Chorus, and a cast of actors in a new staged adaptation of Edvard Grieg's incidental music to Henrik Ibsen's play Peer Gynt on October 19, 20, 21, & 24 directed by Bill Barclay, and featuring soprano Camilla Tilling. Extremely popular and well-known in the context of the two concert suites Grieg constructed later, this music is rarely heard in its original, complete form. (Its last complete BSO performances were led by Mr. Masur's father, Kurt Masur, in 1985.) To open the program, Mr. Masur leads the orchestra in Beethoven's incidental music to Egmont.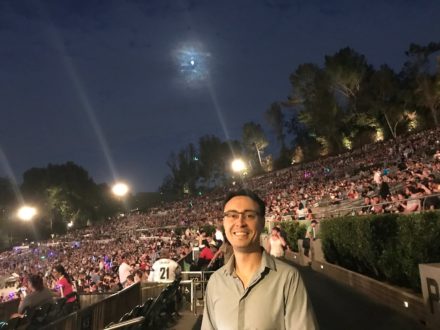 Ken-David Masur at Hollywood Bowl
Masur recently led the L.A. Philharmonic at the Hollywood Bowl in a program featuring Dvorak's Symphony No. 9, and a new production of Moto Osada's chamber opera Four Nights of Dream at the Japan Society in New York and at the Tokyo Bunka Kaikan, stopping to record with the Stavanger Symphony in Norway en route. He looks forward to joining the Portland (ME) Symphony to lead them in Brahms' Symphony No. 1 and Liszt's Piano Concerto No. 1 with Ran Dank. Ken-David Masur begins this season with the Boston Symphony with the new title of Associate Conductor.
After the New Year, Ken returns to the Munich Symphony and the Yomiuri Nippon Symphony Orchestra in Tokyo, and finishes up the season with weeks at the Colorado and Milwaukee Symphonies, the Rhode Island Philharmonic, and the Chicago Civic Orchestra.