"Every detail, from technical virtuosity to balance, is set nakedly in front of the listener. And each of these hurdles, big and small, were navigated with grace by these four fine players. The music pulsed and sang. This was a deeply burnished performance that captured the full emotional spectrum while also displaying ensemble playing that would be hard to surpass." 
After return engagements at Howland Chamber Music Society, Music for Food, Syracuse Friends of Chamber Music, the Detroit Chamber Music Society, Music Toronto, and the Tilles Center, the Juilliard String Quartet marked their 70th anniversary with a performance at Lincoln Center's Alice Tully Hall earlier this week. Presenters had nothing but great words following their concerts.
"The Juilliards gave a great performance and received an enthusiastic standing ovation from our audience.  Astrid Schween seems like a great fit for the quartet."
"Completely wonderful, the quartet sounds amazing."
"The concert was a huge success, totally sold out.  The new cellist fits in perfectly, gives the quartet a better foundation and her agility and musicianship is a great match overall.  The program choices were fantastic and very well executed, I particularly loved their Bartok.  They seem to enjoy themselves and it came across in their performance."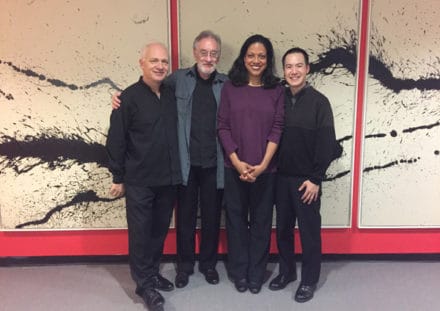 Later on this Fall, they will also make returns to:
Wooster Chamber Music Series on October 23
Peoples' Symphony on November 5
University of Hartford on November 10
Chamber Music Society of Louisville on November 20
Cleveland Chamber Music Society on December 6
Chamber Music in Napa Valley on December 8
Chamber Music Albuquerque on December 11
Arizona Friends of Chamber Music on December 14
And in that December 14 concert, the quartet will  perform the world premiere of a new work by Mario Davidovsky, Fragments. This work was commissioned by Arizona Friends of Chamber Music for the Quartet; the Quartet performs it together throughout the rest of the season.