TAFELMUSIK will bring SAFE HAVEN to the United States, March 4-15, 2020.  In addition to sets, narration and projected images, the performance includes works by Lully, Bach, Purcell, Telemann, and Vivaldi's "Winter" from The Four Seasons, led by new Music Director, Elissa Citerro.  SAFE HAVEN explores the influence of refugee populations on the culture of their adopted countries, and taps into Mackay's uncanny ability to examine the parallels between 18th-century Europe and the issues currently facing our world.
Mackay and her creative team employ scripted text narrated by Maryem Tollar, lighting designed by Glenn Davidson, and stunning projections designed by Raha Javanfar to create the kind of immersive concert experience for which Tafelmusik is world renowned.
"Throughout history, the effects of war, religious persecution, climate change, and poverty have caused people to abandon their homes and seek asylum beyond their borders," says Mackay.  "In the time of Tafelmusik's baroque repertoire, waves of refugees had a huge influence on the music and culture of Europe. Today, when many refugees are finding their place in Canadian communities, the past can teach us about the cultural riches our newcomers have to offer."
Safe Haven  features music by European baroque composers including Corelli, Lully, Bach, Telemann, and Vivaldi — composers whose interactions with migrant musicians, impresarios, and artisans had a major influence on their work. In the final section of Safe Haven, Mackay brings the program full circle to Canada's music scene, where cross-pollination has flourished thanks to the arrival of musicians and musical traditions from around the world. With guest artists Diely Mori Toukara, kora, Maryem Tollar, voice, and Naghmeh Farahmand, percussion, the second half explores some of the rich global cultural traditions passed along to a new generation of Canadian musicians.
Safe Haven also explores how the movement of refugees across baroque Europe changed and enriched the economy and culture of major cities. French Huguenots could be found in Amsterdam, Scottish Catholics in Warsaw, and Sephardic Jews in the cities of Northern Italy. Audiences will hear how the term refugee(or refugiés) first came into common usage during the forced exodus of Protestants from France, following the revocation of the Edict of Nantes by Louis XIV in 1685.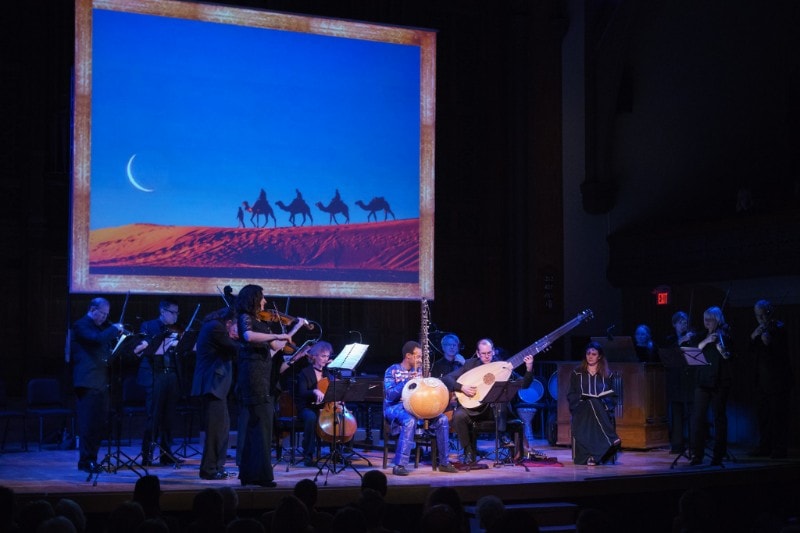 "​It is so much more satisfying to experience a lesson than to simply be told about it. That's the soul-lifting upshot of seeing and hearing Safe Haven, Tafelmusik Orchestra's latest multimedia show, unveiled on Thursday night at Trinity-St. Paul's Centre.
The show's premise is simple: to demonstrate to us through words, music and projected images how refugees have, for hundreds of years, improved the cultures that have welcomed them into their midst. Tafelmusik bassist Alison Mackay's assembly of the music, narratives and images (with the help of videographer Rava Javanfar) into a tidy, two-hour presentation including intermission is anything but simple, but the complexity of the puzzle is hidden by the seamlessness of its execution.​
….You can go for the excellent music, or for the compelling story about loss of homeland and redemption in the welcoming arms of strangers. Or you can go just so you can leave the concert with a big smile on your face."
Read the full review
here
.
Program:
Antonio Vivaldi               Allegro non molto, from "Winter" (The Four Seasons)
Jean-Baptiste Lully           Suite from Cadmus & Hermione
Claude Goudimel           "Or sus, serviteurs du seigneurs"
& Louis Bourgeois
Henry Purcell                   Voluntary on The Hundredth Psalm
Johann Sebastian Bach    Sinfonia to Cantata 156
Antonio Vivaldi                Allegro, from Concerto for 4 violins in F Major
Tomaso Albinoni             Allegro, from Concerto for 2 oboes
A. Vivaldi                         Allegro, from "Winter" (The Four Seasons)
Agostino Steffani             Ouverture, from I trionfi del fato
Juan Hidalgo                     A la salida de Lisboa
Peter Phillips                    Pavan
Jan Sweelinck                   Pavana Philippi
Tobias Hume                    A Soldier's Galliard
John Beck                         "Come riggs are bonnie," from The Balcarres Lute Book
Georg Philipp Telemann  Adagio, from Concerto for oboe in C Minor
Mezzetin en turc, from Suite in B-flat Major
Les postillons, from Suite in D Major
A. Vivaldi                         Largo, from "Winter" (The Four Seasons)
Arcangelo Corelli            Allegro, from Concerto grosso in D Major