The Heath Quartet returns to the Ryedale Festival this week where the late string quartets of Beethoven take center stage. Over the course of four concerts (entitled 'A Meeting of Minds'), these quartets are heard alongside the poems they inspired T.S. Eliot to write over a century later. Renowned actor Jeremy Irons joins the quartet to read the poems.  These concerts follow the Heath's recent appearances at the Aldeburgh Festival (listen here).
This fall they return to North America:
October 26-28 – residency & concert Meany Center for the Performing Arts, Univ. of Washington – Seattle, WA
October 30 – Phillips Collection – Washington, DC
November 2 – Market Square Concerts – Harrisburg, PA
November 4 – Carnegie Hall – New York, NY
November 6 – Cedarhurst Center for the Arts – Mt. Vernon Hall, IL
Their repertoire includes:
Haydn: String Quartet in F Sharp Minor, Op. 50, No. 4
Tippett: String Quartet No. 5
Dvorak: String Quartet No. 13, Op. 106
They will tour North American in October 2017 offering programs of Purcell, Tippett, Bach, Mendelssohn, Haydn, and the complete quartets of Jörg Widmann.
Their debut disc on Harmonia Mundi of quartets by Tchaikovsky will be released in November 2016 – here's a sneak peak: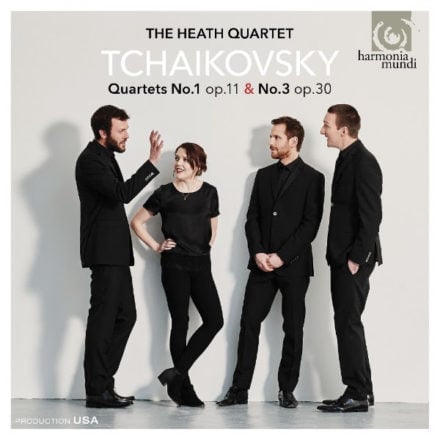 Watch a short video about their award-winning disc on the Wigmore Hall Live label of the complete string quartets of Sir Michael Tippett, below. The disc was an Editor's Choice in the March 2016 issue of Gramophone Magazine.