In 2016, Harpist Yolanda Kondonassis released her album Ginastera: One Hundred, a centennial celebration of the composer, Alberto Ginastera, featuring his harp concerto written in 1956.  Yolanda spoke with Mike Goldberg from NPR about the album, Ginastera's contributions to harp repertoire, and how she approaches new projects. Listen to the interview here.
"He created the work that pushed the harp out of its box and gave us the kind of indelible, substantive composition that makes or breaks a solo career like mine."
– Yolanda Kondonassis (from the liner notes of Ginastera: One Hundred)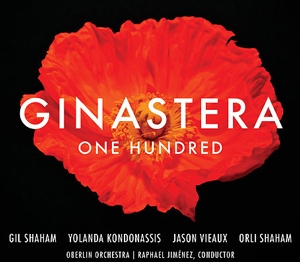 "The album is a masterpiece. Kondonassis's playing in the concerto is rhythmically exact, yet passionate. It is mesmerizing…"
– Jeremy Reynolds, Ginastera: One Hundred, CLEVELAND CLASSICAL, October 14, 2016
"Kondonassis has done a service to Ginastera's legacy with One Hundred and we are the beneficiaries of her advocacy. I would say if you own one record of Ginastera it should be this one."
– JEREMY SHATAN, November 1, 2016
Yolanda's next project is a harp concerto commission with Grammy and Pulitzer Prize-winning composer, Jennifer Higdon. Yolanda premieres the concerto in the spring of 2018 and performances with commissioning partners are slated for the 18/19 season.
Yolanda began 2017 with the Detroit Symphony Orchestra, performing Mozart's Concerto for Flute and Harp, as part of the orchestra's Mozart Festival.  Watch the performance on the Detroit Symphony Orchestra's website here.
Next month, Yolanda and her recording partner, guitarist Jason Vieaux, visit the Schubert Club of Saint Paul for an educational program about preserving the environment on March 3, and a program from their album, Together, on March 5, for the Music in the Park series.